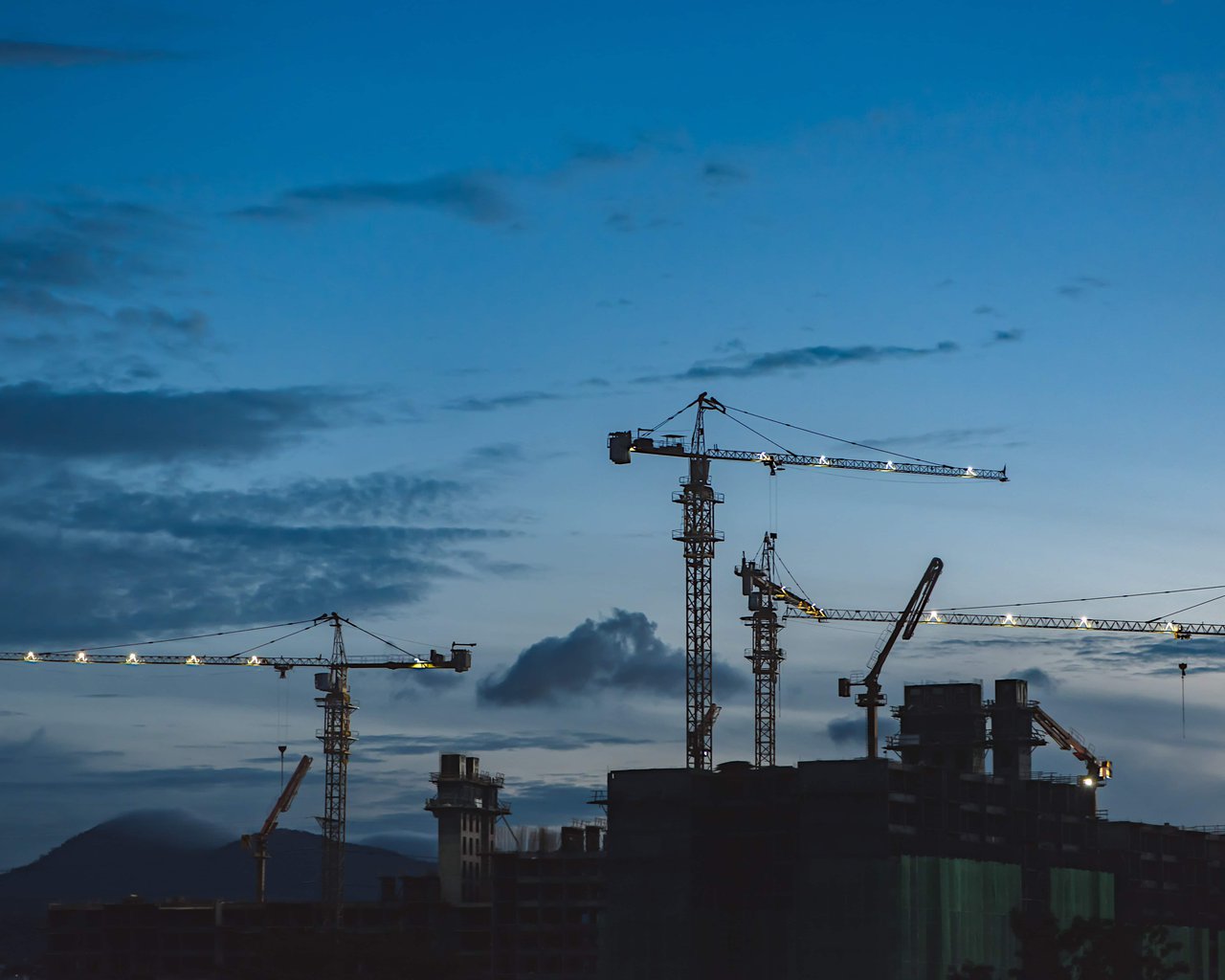 Projects arbitration in Romania and Moldova by Freshfields Bruckhaus Deringer and Dolea & Co
On 11 March 2021, Freshfields Bruckhaus Deringer and Dolea & Co invite you to join them to discuss projects arbitration in Romania and Moldova. Leading global arbitration specialists will provide a combination of international and market-specific perspectives on infrastructure, energy and mining projects in the region, the kinds of disputes that arise and how arbitration can be used to resolve them.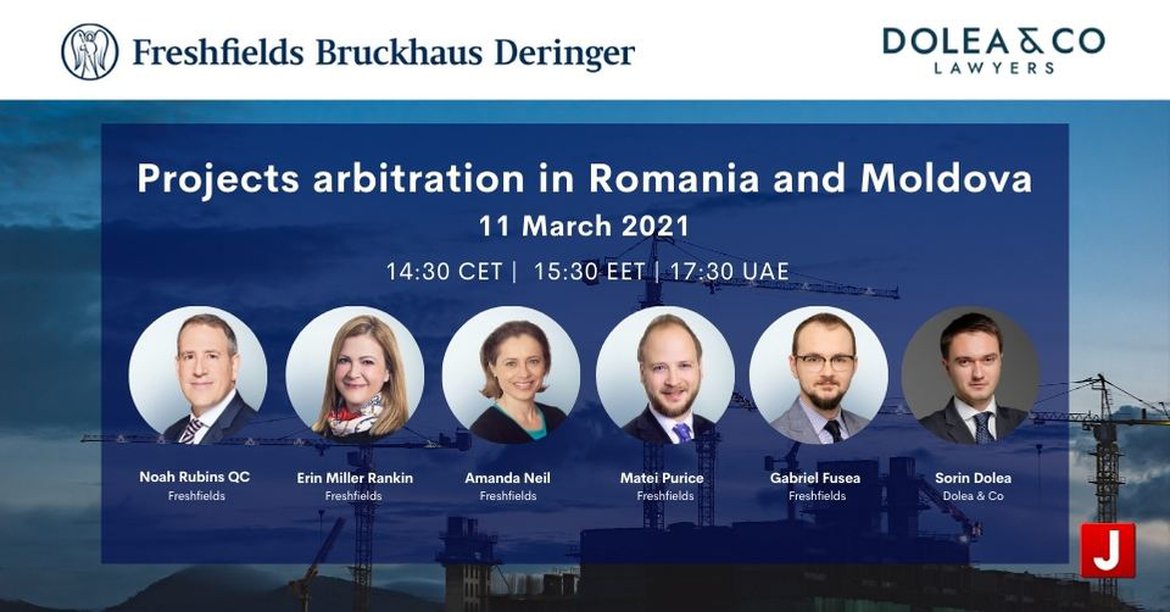 The conference will take place virtually on 11 March 2021 at 15:30 (Bucharest/Chisinau time) and will be hosted by https://www.juridice.ro/ and https://juridicemoldova.md/.
Youtube: https://www.youtube.com/watch?v=X0ObBqeWd3E
The speakers are:
Noah Rubins QC – Freshfields Bruckhaus Deringer
Noah Rubins QC is the head of the international arbitration group at Freshfields Bruckhaus Deringer's Paris office and also leads the firm's CIS/Russia Dispute Resolution Group. Noah has advised and represented clients in arbitrations under the ICSID, ICSID Additional Facility, ICC, AAA, SCC, LCIA, ICAC, and UNCITRAL rules. He specializes in investment arbitration, particularly under the auspices of bilateral investment treaties and the Energy Charter Treaty and has also practiced law in New York, Washington, Houston, and Istanbul. He has served as arbitrator in over 40 cases, including two investment treaty disputes adjudicated under the UNCITRAL Rules and one under the ICSID Rules. Noah has published widely in the field of arbitration and is a frequent conference speaker.
Erin Miller Rankin – Freshfields Bruckhaus Deringer
Erin is a global partner at Freshfields Bruckhaus Deringer who advises on legal strategy and managing risks on major projects. She leads a team of specialist practitioners that work across the world supporting clients on their major capital projects, with a particular focus on emerging markets. Erin is described by Chambers Global as 'a force of nature: a sharp intellect and a great cross-examiner'. She has specific expertise of complex international arbitrations in the oil and gas, power, mining and transportation sectors. Erin is a co-chair of the project execution subcommittee for the International Bar Association.
Amanda Neil – Freshfields Bruckhaus Deringer  
Amanda specializes in international commercial and investment arbitration, focusing on energy, major projects, corporate and financial disputes. She leads large teams in complex multi-jurisdictional arbitrations conducted under the rules of the major arbitral institutions and in ad hoc proceedings. She also sits as arbitrator and tribunal secretary. Prior to developing an expertise in dispute resolution, Amanda spent many years as a transaction lawyer, specializing in corporate and finance matters. She has practiced in Sydney, London and Vienna and is qualified in Australia and England and Wales. 
Matei Purice – Freshfields Bruckhaus Deringer
Recognized by GAR's Who's Who Legal as an arbitration "Future Leader" since 2018, Matei focuses his practice on disputes arising out of global projects (including infrastructure, industrial and urban development projects) both commercial and under international investment protection treaties.  He has acted as counsel in matters under a variety of arbitration rules including ICSID, ICC, SCC, UNCITRAL, Dubai International Arbitration Centre (DIAC) and the Court of International Commercial Arbitration of Bucharest with seats in Paris, London, Geneva, Dubai and Bucharest.  He also sits as arbitrator particularly in ICC and DIAC arbitration proceedings in the construction sector including in matters arising out of FIDIC contracts. Since 2014, he is an external lecturer at the International Arbitration LLM organized by the Bucharest University where he teaches on a variety of topics related to arbitration in the construction sector.
Gabriel Fusea – Freshfields Bruckhaus Deringer  
Gabriel specializes in international investment and commercial arbitration, with a focus on energy, mining and real estate projects. Prior to joining the firm in March 2019, he was an associate in the dispute resolution practice of a prestigious law firm in Bucharest. He has acted as counsel in matters under the ICSID, UNCITRAL, LCIA and ICC rules. Gabriel holds an LLM in International Business and Economic Law from Georgetown University Law Center and an LLB from the University of Bucharest Faculty of Law. He is qualified in New York as well as in Romania (nonpracticing member of the Bucharest Bar). He has previously held a clinic on international arbitration at the Université Catholique de Lille.
Sorin Dolea – Dolea & Co
Sorin Dolea is the managing attorney at Dolea & Co and the co-founder of the Moldovan Arbitration Association. He is currently a Ph.D. candidate in International Law at Moldova State University and holds an LLM in International Dispute Settlement (MIDS) from Geneva Law School and Graduate Institute of International Studies. Sorin has practiced arbitration in Geneva, Viena and Frankfurt am Main. He has been involved in ICSID investment arbitrations based on the ECT and BITs as well as commercial arbitrations under ICC, LCIA, VIAC, and UNCITRAL rules. He is qualified in the Republic of Moldova.
10.02.2021